WP Properties and its subsidiaries have been in operation since 1977 with the acquisition of an 80,000 S.F. office building located at exit 37 on Route 80 in Denville, New Jersey. That acquisition was followed by the remaining seven buildings on 43 acres which was the former site of Reaction Motors. Reaction Motors developed components for the X-15 Rocket which was integral in pioneering modern space exploration.
Over the years our portfolio has grown. In 1982 we acquired a 55,000 S.F. Industrial building in Washington Township, Morris County and in 1999 a 275,000 S.F. industrial complex in Dover for a total of 16 buildings of over 800,000 S.F.
We have a diverse set of leaseholds numbering over 100 ranging from food manufacturing to pharmaceutical research and development. Regardless of the leasehold, our philosophy hasn't changed in over 40 years: Provide experienced and dedicated hands-on management that will provide the environment for our tenants to be successful.
---
Services
WP Properties is a full service real estate firm focusing on the needs of our tenants by providing 40 years of proven management. We specialize in creative solutions to a wide variety of real estate needs ranging from engineered space planning to turn-key build-outs.
Asset Management
Space Planning
Construction Management
Site Design and Development
---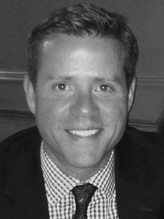 JEFFREY T. BARNISH
Partner
p: 973.627.7000
f: 973.627.7044
jbarnish@wpproperties.com
effrey is a Partner with the WP Properties group of companies.  He is responsible for the day to day operations including leasing, marketing, construction and financing.  Along with his responsibilities at WP Properties, Mr. Barnish also manages a family owned portfolio of approximately 175,000 S.F. located in Morris County, NJ. Prior to joining WP Properties Jeffrey managed high net worth client portfolios at Donaldson, Lufkin and Jenrette.  Mr. Barnish received a Bachelor of Arts from Villanova University and is a Licensed New Jersey Realtor.  He has served on the Mayor's business advisory committee in Dover, NJ and currently serves on the Saint Clare's Hospital Governing Board in Denville, NJ as well as the Denville Education Foundation.